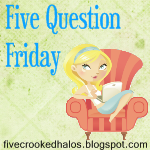 I came across this on a new blog I've started following and thought it would be fun to join in. You can too! Check out
Mama M.'s blog
and see what everyone else has to say, then write a post of your own!
1. Does Santa wrap the presents he leaves at your house?
It really depends on how big the gift is. If it is something small, then he will wrap it. If it's big or has to be put together, then he just leaves it under the tree.

2. When is your "big" Christmas celebration...Christmas Eve or Christmas Day? Tell us about it...


Which one? We have several BIG Christmas celebrations. The six of us do our gifts early Christmas morning and for the last several years, I have made Christmas dinner and my parents have come up for that with their gifts (looks like we're going to change that up a bit this year since Christmas falls on a Friday). We also have a BIG celebration with my husbands family sometime before or after Christmas day and another with my mom's family. We usually end up with about 3-4 big celebrations.


3.
Are you big on keeping tradition every year?


There are a few things that we do every year. The kids get new pjs, we go to Christmas Eve service at church, we always bake Santa's cookies from scratch (even though I use the premade stuff for everything else), we make reindeer food, and on Christmas Eve we always read "The Night Before Christmas". Sometime during the week or two before Christmas, we also read The Crippled Lamb (makes me cry everytime) and How the Grinch Stole Christmas (my all time favorite book-also makes me cry everytime).


4.
Do colored lights or white lights tickle your fancy?


I like both.


5.
Do you decorate outside your house for Christmas?
We haven't the last few years, but I have vowed to change that for next year. I remember all the years my dad used to put lights on our house and how much I loved it. I want our kids to have those memories too.