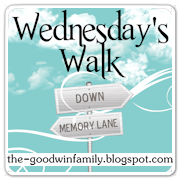 It's time for another Wednesday's Walk down Memory Lane. If you want to read what other Wednesday Walkers remembered today, head over to
Jenilee's
blog and join the fun.
I didn't have an idea in mind this week (again) for my Wednesday's Walk. So I decided to go with the "pick a random disc" technique I used last week. I pulled out a little box of floppys that I hadn't looked at in a while. The title of the first disc said "Sierra Born." I thought that would be a good one (and it goes well with my Wordless Wednesday post for this week).

Sierra was born on February 2, 2004-Groundhog's Day. I never knew that February 2 was Groundhog's Day until then. Anyway, Sierra was the first of my children who didn't wake us up in the middle of the night to announce their coming arrival. I had seen my doctor on Thursday (may have been Friday, I can't remember now) and had scheduled an induction for Monday morning, fully expecting her to come before that time.

I spent the day on Saturday finishing up my lesson plans and preparation for my substitute at school. Don't remember what I did on Sunday, but probably packed and did last minute things.

Monday morning, we arrived at the hospital bright and early. They got everything going, but it took a long time. We were prepared, though. The nurses thought it was kind of funny to see us playing cards while we waited.

Dakota and Cheyenne came to visit us a little later with my parents. They were pretty excited, I think. It's funny to think that Dakota was in kindergarten when Sierra was born. I can't imagine having a newborn now that Sierra's in kindergarten.
Daniel and I kept playing cards and people kept coming in to visit. Finally the nurses came in and said that the baby was showing that she was ready. Everyone left the room except Daniel. The nurse asked me if I was ready to push and I said "no". I think it finally hit me that there was an actually B-A-B-Y coming. She said "Okay, well let's just do this another day then." Ha!

It didn't take long and Sierra arrived! She was perfect with a head full of black hair! Daniel helped to clean her up and all that stuff that dad's get to do.
Here is my first picture of all three girls together.
This is one of my favorite pictures from that day. I am so lucky to still have my grandparents-who we call Pops and Memaw. I have a picture similar to this of the two of them in the hospital room holding their new great-grandchild for all four of my children. We live 160ish miles from them and they have made the drive every time.
Sierra is such a blessing to our family. She is (almost) always happy and smiling. She has the best laugh ever. I can't wait to watch her grow up and see who she's going to become!

Here is the princess these days