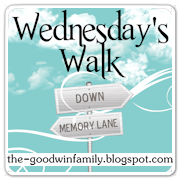 Oh, how I've missed Wednesday's Walk since
Lynnette
stopped hosting it. I was so excited to hear that
Jenilee
was bringing it back on her blog. It's so much fun to remember some things I've forgotten about.
I didn't really have anything in particular to share for today's Wednesday's Walk, so I decided to
just grab a random disc (our first digital camera used floppys) and see what opened up. The first one had some cute pictures, but no memories that really stood out. But, look what I found on the second one!