Hooray! It's Friday Follow time! Time to make some new friends! If you want to participate, go over to
One To Try
,
Midday Escapades
, or
Hearts Make Families
.
This week's sponsor is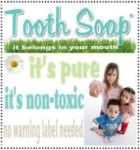 This has been a pretty good week in our house. The girls went back to school on Monday (which isn't the good part, we actually miss them a lot while they're gone) and we have been able to get back into a routine. I do miss sleeping in until 7:30 though. Only 45 school days left this year!

I hope everyone else had a great week as well. Can't wait to hop around to some new blogs and see what they've been up to.