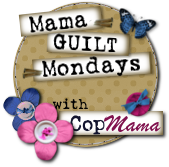 This is a new one for me. Looks like fun! I just found
Cop Mama's blog
last week and am loving it. Hop on over there to check out more Mama Guilt Monday posts!
This week, the prompt was
Tell us about a time you did something absent minded as a Mom!
I know there are lots of things I've done, but here's the one that came to my mind first.





A few weeks ago, Daniel and I and the kids went to Wal-Mart to kill some time before heading out to Tulsa in the afternoon. He wanted to look at some hunting things and we needed to pick up a few groceries. Dakota and Landon got bored with looking at sporting goods, so they went with me to the toy section. Daniel and the other two girls were going to meet us there. I told Dakota she didn't have to stay with me, but not to leave the toy section because I didn't want to lose her. She went her way and we went ours.




After Landon and I had gone up and down several aisles, I had the bright idea to go over and get the things we needed from the grocery section so that when Daniel and the girls came over we could get out of there faster. So, Landon and I headed that direction.




Not only did I forget to tell Dakota where I was going, I totally forgot she was even with us! Since I've been home, Landon and I have spent a lot of time at Wal-Mart together, so I have gotten used to it being just the two of us.




I had been over picking up groceries for 5-10 minutes before I remembered her. She had been looking for me, but thankfully wasn't too panicked yet. I felt really bad. Hopefully it won't scar her too badly.



Okay, I feel better now. Think I'll do this again next week. Thanks Cop Mama for a great idea!