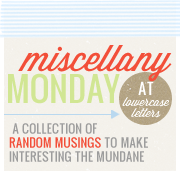 I almost waited too late to get this post up! If I don't hurry up, it will be Miscellany Tuesday and that just doesn't have the same ring, does it? Here are a few random things from the past week:
1. The van on my air conditioner died on Monday. It's been going downhill for a while, but Monday it finally just gave up.
*yes, I noticed that I said that backwards when I was proofreading my post. It's actually

the air conditioner on my van

that went out, not the other way around. It made me laugh out loud, so I decided to leave it. Does anyone else ever talk like that? I do it all the time!*
2. I'm so thankful that my mother-in-law is letting me borrow a car to use until the van gets fixed (on Saturday, yea!). It's a PT cruiser.
3. It's been a long time since I drove a "cool car". I've driven a mini van since Landon was just a couple of weeks old. It's kind of fun!
4. I have found a few drawbacks to driving a car instead of a van when you have many children. First, everyone is very close together. This means that someone is always touching/breathing on someone else. Second, the noise level is twice as high-Dakota trying to have a conversation with me, while Sierra and Landon are playing rock, paper, scissors, with Cheyenne singing along with the radio in the seat behind me...Normally, the noise is spread out in the back of the van so I don't notice it as much. Third, there is not nearly enough cargo room for all of our stuff. I took the kids with me to buy groceries this afteroon and barely had enough room for all the bags.
5. Guess I'll be sticking with my van for a while longer. Hopefully it'll be good as new on Saturday.
6. Our new school year "officially" starts tomorrow. We're not getting off to the start I would have liked, though. Landon pulled a cap off this weekend eating a sucker, so we've got to get him in sometime tomorrow (hopefully early in the morning) to get it put back on. I forgot to take my library list to town with me yesterday (and of course they were closed for Labor Day today), so I also need to check out books while we're in town tomorrow. I'm hoping we can get all that done and be ready to really dig in after lunch tomorrow. We get our first day off on Wednesday because we'll be going out of town to a funeral. :( But Daniel is working on Thursday and Friday, so we'll still be able to fit in 3 days this week like I had planned.
7. Sadly, our friend, R., went home to be with Jesus on Sunday evening. My heart is torn between being broken for her family and friends who have lost an amazing lady here on earth and rejoicing that she is healed in heaven. She will be missed!
8. I've still got a few things to finish preparing for school tomorrow so I'd better get to it and get to bed.
Yea! I made it with 5 whole minutes to spare!