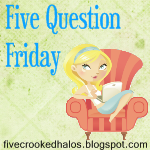 1.
Do you sing karaoke? If so, what is your go to song?
I LOVE to sing but I would never be brave enough to sing in front of people who aren't related to me. I stick to singing in the car and at home.


2. What is your favorite coffee drink?
Coffee SMELLS soooo good, but I don't drink it. I've tried. I think it tastes like burnt water. :) I'll stick to some yummy sweet tea.


3. If you could choose your own name, what would it be?
Well, I get called Jennifer a lot (like I said in this post) so it might make my life easier if I just changed my name to Jennifer.


4. Were you ever bullied?
That was a long time ago. Funny how things work out though. One of the people who used to bully me in high school recently said she thought we were a lot alike now and if we lived closer would probably be good friends.


5. How often do you eat fast food?


Way more than I should but not as much as I did when I was working.