I've been missing Mama M.'s five question Friday so much! It feels good to be settled in and back to the old routines-the good ones anyway.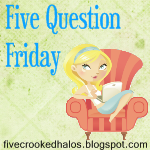 1.
Would you rather be on ABC's Extreme Home
MakeOver
or
TLC's
What not to Wear?
Actually, neither. I love the idea behind Extreme Home MakeOver and the stories always make me cry. They definitely pick people who are deserving of a brand new home. However, I think they go a little overboard on the houses they build. It would be nice to see them do a little less on each project so that they could help more families.
Plus, we just got a new house and I love it!
I could never be on What Not To Wear because there is no way I could spend the amount of money they do-hundreds of $ for a pair of shoes??? No way! Not even if it

was

someone else's money. $5,000 could clothe my entire family for several years with money to spare.
2.
Do you have any tattoos?

Nope, never will.
3. D
o you tell your kids about things you did growing up?
Um, which things? Some things I do tell them about and some things I haven't yet. I was really a pretty good kid, so there's not a lot to tell. There are definitely some things that I would do differently, though, and if the situation arises, we will talk about those things.


4.
If the traffic signal turns yellow, do you stop or speed up?
It depends how close I am to the light and if there are any cars at the intersection (oh and if I can see any police cars or not).


5. What's your preference:
chocolate
or chips?

How about CHOCOLATE CHIPS?! That would be my choice.


And there you have it. My Five Question Friday answers. Can't wait to check out everyone else's answers for this week! If you want to see what everyone else had to say, just head on over to Mama M.'s blog!


Also, would you please add Mama M. and her family to your prayer list this week? They lost a dear family member last week and I know they would appreciate it.