Woohoo! Five Question Friday time with Mama M.! Go on over to her place and link up. You know you want to!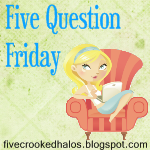 1. W
hat is your favorite summer time activity?
Anything where we can get wet! We like hanging out at the splash pad, Grandma P.'s pool, turning on the sprinkler for a little while, water guns, and even washing the van. A couple of years ago, we had a big family water balloon fight. It was so much fun! The kids are begging to do it again this year. If only the water balloons came pre-filled. My fingers got so sore from trying all those balloons!


2.
Do you have one laundry soap you stick to, or do you buy whatever's on sale?
Laundry soap is tricky at our house. Landon has very sensitive skin, so I have to be careful what I use. So far, the only things I have found that don't irritate his skin (and that I can afford) are the really, really cheap liquid detergent (because it's mostly just water), original scented Gain, and Arm & Hammer. I really, really love laundry that smells good (especially towels) but when I tried the scented Gain it broke him out, so I have to stick with the original. I'd like to try making my own laundry soap, but I haven't gotten brave enough to do it yet.


3.
What is your favorite dinner to make in the summer?
Anything that doesn't take much time or heat up the kitchen much. We love to use the grill in the summer, but ours broke before we moved, so we don't have one right now. We tend to do more sandwiches and popcorn/movie nights in the summer so we don't have to cook.


4.
Do you have any talents?
Not really. I would love to be able to sing, really sing, but that's not one of the gifts I was given...


5. If you could instantly be an expert in something, what would it be? Why?


Right now, I'd have to say 7th grade math. I'm trying to get Dakota through the last few lessons in her math book and it's about to kill us both. There was one problem the other day that we never did figure out. When we looked at the answer, it made sense, but we never really understood how they figured out the answer. I think we may have a math book burning party when she's done! I'm so excited to try a different math program with her. I think we're going with Life of Fred. It looks like it will fit her personality perfectly.


All righty. We're gonna be up bright and early this morning to see the girls off to church camp. Not sure what Landon and I are going to do while they're gone, but I'm pretty sure he has some things in mind. I sure hope taking a nap in the afternoons is in his plans, but somehow I'm guessing it's not.