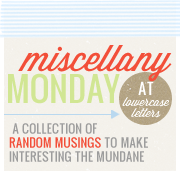 1. I have become an e-bay addict! I've been buying curriculum the past few weeks and have saved over $150 so far. There are a few things that I will have to buy new, but it's nice to be able to save where I can.

2. Since Daniel's days off are Thursday and Friday right now, we have been having "Friday Funday". It's nice to have a day set aside to have fun together.
3. This week for Friday Funday, we made a spur-of-the-moment trip out of town. We shopped for laptops at Best Buy, found some good stuff at Dollar Tree, bought some fun school games at Ross, tried out Cherry Berry for the first time, bought the girls some new dresses at Sears, and had dinner at Buffalo Wild Wings. It was a pretty fun day!
4. Daniel and I are going to see Tim Hawkins at the end of next month. I am so excited! I first heard of him when someone posted a youtube video on facebook. I think the kids and I have watched almost every youtube video of him there is. The kids are bummed that we're not taking them. The last time we spent the night away from home without the kids was when I was in the hospital, but I don't think that really counts...
5. Labor Day weekend, we get to go see Third Day at the Tuskahoma Labor Day festival! I missed Casting Crowns last year when I was admitted to the hospital, so I'm pretty excited to be able to go this year. It's going to be awesome!
6. Two weeks from tomorrow, we will begin our new school year. I think I'd better get the rest of our books ordered!