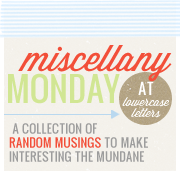 1. Last week went by really fast! Cheyenne even made a comment about it last night. Hope this week slows down a little. I've got a lot of work to do before next Tuesday.
2. We are officially starting school next Tuesday. I still haven't ordered those math workbooks, but it's on my to-do list for today.
3. I'm trying to figure out our routine/schedule. My main problem is keeping Landon and Sierra busy when they aren't working with me. I bought some cool games at Ross a couple of weeks ago that they can play by themselves. I'm thinking I'll stock up on some puzzles at Dollar Tree this week, too. If you have any other ideas, please share. Landon, especially, needs to keep his hands busy.
4. This weekend is the Third Day concert. I can't wait!
5. Cheyenne is watching "Say Yes to the Dress." Here's the comment I just heard from a mother-of-the-bride, "I just pictured her getting married for the first time in a white dress." Really? I just can't imagine going into my daughter's wedding thinking that it wasn't going to last. I think that's really sad.
6. My heart is broken today for a friend and her family. She was recently diagnosed with cancer that has been very rapidly spreading. The doctors have just made the decision to put her on "comfort care" meaning that they aren't going to do anything to try to treat the cancer, just make her as comfortable as possible. I'm praying that she will have peace in her heart and comfort in her body as long as she is still with us here on Earth.