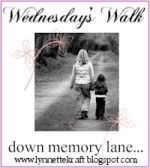 If you want to participate in Wednesday's Walk Down Memory Lane, or if you want to check out what other people are remembering this week, head over to

Lynnette's

blog

.
As I was looking for an inspiration for this week's Wednesday's Walk, I came across these pictures from last summer. They are from Father's Day weekend 2008. I always have a hard time with Father's Day gifts. I never can find the right gift...especially for my grandpa-Pops. He has everything!
Last year, the kids really wanted to make him something, but we just couldn't come up with a great idea. Finally, one of the kids suggested that we make cookies for Pops. I liked the idea, but wanted to make it more meaningful-to somehow show him how much love the kids put into making the cookies for him-so I decided to take pictures of the kids making the cookies. We put them into a little album and gave that to Pops along with the cookies. It turned out great!
Here are a few of the pictures we gave to Pops.