For my first Wednesday's Walk, I decided to do a post in honor of Landon's birthday-it's actually next Wednesday, so I may do a second one then. It's hard to believe he's going to be 4 years old next week and going to school in August!
Here are some pictures of the time we spent in the hospital when he was born.
This is Landon in his "space suit" being treated for jaundice. I remember being a little worried when they told me they were going to have to put him "under the light" and thinking of when Cheyenne was in the NICU. She had to stay in the little crib with no clothes, blanket, etc for hours at a time. I hated just having to sit there and look at her like that and not be able to hold her and feeling like she needed to be covered (although I know it was more than warm enough under that light). The only good thing were her cute little "sunglasses" that she had to wear when the light was on. I was so relieved when they brought this in for Landon instead. He just lay there all snug and warm and soaked up that light. Whoever invented this thing was a genius!
Since we got to spend an extra five days in the hospital with him, I had lots of time on my hands. So, I took lots of pictures! I LOVE this one! That little smile still gets to me!
Here is one of the first picture of all my kids together. I love the personalities that come out for each one! I still don't know how we managed with two babies that close together!
And now, a before and after! Landon at about 3 days old and Landon at almost 4 years old!
Happy Birthday son!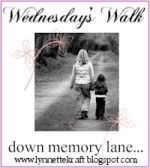 If you want to participate in Wednesday's Walk, check out
Lynnette's blog
for all the details.