We have had a pretty busy week and weekend and it's definitely not going to slow down any this week! I'm taking a few minutes to link up with Carissa at Lowercase Letters this week for Miscellany Monday. I didn't get it done last week and I missed it.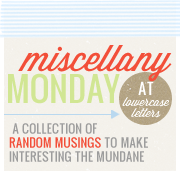 1. Only 4 more days!!! We leave on our way to Florida on Friday afternoon. The kids are getting so excited! I went on a BIG shopping trip on Saturday and I think I finally have everything that we need. I've been working on my packing lists and getting all the laundry done. By this afternoon, the first suitcase will be officially packed. I'm started to get excited about it a little more. I can't wait to see Sierra's face when she meets Cinderella!
2. Dakota and Cheyenne had their rank test on Sunday. They both tested for their green stripe and they did an excellent job! It was a crazy mess getting there, but they had fun and passed their tests, so that's what matters. I'll try to get some pictures up later this afternoon (I have to clear the memory card, so I'll have a good excuse for being on here. hehe)I love watching the rank tests. It's so impressive when all the students are out on the floor together doing forms or kicks! Maybe someday I'll take tae kwon do with them (ha!)
3. I had blood work done last week to check my hemoglobin again. My last level was 7.9. I'm really hoping for it to be above 8 this time but as tired as I've been lately, I don't think it will be. I will be so happy when it finally gets up to where it's supposed to be. Being tired all the time is no fun! I have an appointment with Dr. G on Tuesday morning, so hopefully she can give me an idea of how long it might take to get back to normal.
4. I think I have finally settled on a curriculum for next year. We're going to try
The Weaver
curriculum from Alpha and Omega. It looks like a good fit for us and more suitable to my teaching style. We're going with Singapore Math for the younger 3. Not sure what math we're going to use for Dakota but she's requested to switch from Saxon. Can't wait to get our new stuff in and start planning out our year!
5. I'm wondering what today is going to hold. We've gotten off to an odd start so far. The first child didn't wake up until 7:20 and it was SIERRA! You know, the child who loves to sleep in til 9:00-9:30 as much as possible. She sleeps so long most days that she almost missed breakfast. The other 3 followed over the next hour and guess who was the last one up at 8:20? CHEYENNE! She is almost always up by 6:30 at the latest. Wonder if that means the rest of my day is going to be weird too?