Only one more day!!! We leave for Florida tomorrow and it looks like I'm actually going to be ready. I have Landon and Sierra's suitcases packed and ready to go. We're taking the day off school today to finish up. My goal is to have everything we can already loaded in the van before we go to bed tonight.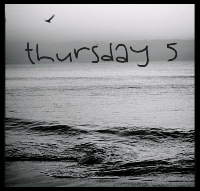 This week's Thursday five words are:
Irresistible
Positive
Successful
Vibrant
Glorious
On Mother's Day, I got to see my sweet little baby cousin L. He is absolutely

irresistible

!
Not only is he cute, but he has the best personality. I love to hear him laugh!

Last Wednesday night, Pastor Terren talked about the importance of having a positive attitude. Ouch! I needed to hear that.

We have had a pretty successful school year. We aren't quite finished with everything for this year yet, so we'll still have some work to do after our vacation. We're going to be a lot more relaxed though. Summer's here and it's time to have some fun!

Sierra loves vibrant colors. This makes for some interesting clothing choices. I usually let her wear what she wants unless it gets too outrageous. The other day I was trying to convince her to change her bow to match her clothes and she said, "But, I just like to mix colors!" Kind of like in this picture.

Gotta love the purple bow/green shirt combo. It definitely fits her personality!

The word glorious makes me think of this song.

Love the part that says, "You make everything glorious. What does that make me?"