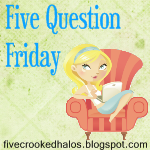 Click on the button to join in the fun with Mama M.!


I am so excited that it's Friday. We are going to have a fun weekend! We will be leaving for McAlester in the morning to spend the next couple of days with our families celebrating Easter, my grandpa's (Pops) birthday, and also Dakota's upcoming birthday (can't believe she will be 12!) I'm sure I will have lots of pictures to post when we get back.


I just love Mama M.'s Five Question Friday. Here are my answers for this week.


1.
Do you sing out loud in the car when

you're

driving?
Oh yes! Especially when I am by myself.
2. What would you never be caught doing?
There are so many things, but I'm going to go with eating any kind of insect/bug/spider on purpose.

3. Will you go #2 in a public restroom?
Sometimes you have to do what you have to do.

4. Have you ever broken a bone?
Nope.


5. Do you prefer cooking or baking?

Baking. My favorite thing to bake is cut-out sugar cookies. Mmmmmm!