It's time for another edition of Mama Guilt Monday with
Cop Mama
. Head on over to her blog to read what others had to say about their Mama Guilt today and link up a post of your own.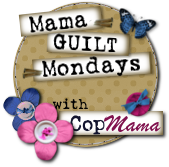 This week's prompt is:
Balancing Blogging & Being a Mom
I have been struggling with this lately. Trying to find the time to read the blogs I follow, enter giveaways, leave comments on other blogs, write posts, load pictures, link up on blog hops...while still being there for my kids is tricky. It's especially hard during the day when the girls are at school and it's just Landon and I at home. Landon is content to sit in front of the computer or TV as long as I'll let him and entertain himself. If I'm not careful, I'll sit down to work on a blog post or catch up on my reading and before I know it, and hour has past or even longer. I feel really guilty then that Landon has been with the electronic babysitter all that time.

I've tried staying up later after the kids have gone to bed and getting my posts for the next day ready so that all I have to do is link them up the next day. By the end of the day, though, I am too tired to put together a coherent thought most days. So, my new goal is to get up early and get the posts ready for the day. Then, when the linkys appear, I will be ready to go. I used to get up at 4:00am when I was working and I really got a lot accomplished during the time before everyone else got up. It's much easier for me with no distractions. I started last week, setting my alarm for 6:00am instead of 6:15. If nothing else, it helped my attitude a lot to start the day with a few minutes to myself.

This week, I am going to set the alarm for 5:45am. I can use that time to catch up on e-mail and blog reading before the kids get up. If I can't get a post written during that time, I can at least get a start on ideas going so it won't take so long when I do sit down to write.

Another thing that I am going to do this week is to go back to eating lunch at the table with Landon. He always asks if he can eat in the living room and watch TV. Lately, I've been letting him because 1)he eats more when he's watching TV (he takes meds for ADHD which affect his appetite, so I will do anything to get him to eat something). 2)he is usually finished eating his lunch by the time I get mine made and then I end up eating at the table by myself anyway. 3) If he's occupied, I have time to work on blog stuff. My goal for this week is to eat lunch at the table together at least 3 days.

I can't wait to read how other moms handle balancing between blogging and kids! I know I'm going to get some great ideas!