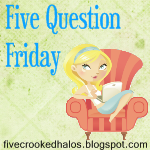 Woohoo! Five Question Friday is here! I've had such a great day (the girls were home and we actually got the house semi-cleaned) and this is just the icing on the cake. After you finish reading my answers, hop on over to
Mama M.'s blog
and check out what everyone else had to say.
1.
What is your worst memory of your siblings?
It's such a hard choice, but I think I'll go with not having any siblings. Yep, that's the worst one. :)


2. What was YOUR naughtiest childhood memory? (Must be something YOU did, no pawning it off on someone else!)
I know

some people

will disagree with me, but I really wasn't a naughty child. Maybe the day I stuck the butterknife in the outlet. :)

3. Where do you like to go to relax?
Lately, I've been getting away for a little while every couple of weeks to the library. I love to go in and pick out a new book and spend 30 minutes or so of uninterrupted time reading. It's so quiet in there! I have a favorite spot in the back that I love. It's a little booth from a restaurant that's off kind of by itself. I could sit in there and read all day!


4. What was the last thing you won?
I beat Landon at Candyland the other day. Does that count? :) I honestly can't remember that last thing I won. I'm not usually that lucky.


5. If you could be on a game show, which would you choose?

Deal or No Deal is the favorite game show in our house right now. I think I could do it. My second choice would be Are You Smarter than a Fifth Grader?.