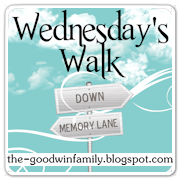 Last year, just before Christmas time, Cheyenne's 2nd grade teacher, Mrs. S, approached me during my planning time one day and asked "Do you have a baby doll at your house that's in need of new clothes?" I told her that I was pretty sure I could come up with one. She said "It's just not Christmas unless I make some baby doll clothes and our family doesn't have anymore little girls to make them for."

So I went into the girls' room and, sure enough, I found a whole colony of little naked baby dolls. (does anyone else's kids insist on having naked babies? The clothes don't stay on ours for five minutes after the girls get a new doll). I chose one that used to be Cinderella before she became a nudist and snuck it to Mrs. S at school.
I was pretty excited to see this little dolly's new dress. I decided to tell Cheyenne that the dress came from someone special but to keep the "who" a secret until the end of school. It took a couple of weeks for Mrs. S to get it ready, but it was well worth the wait!
Mrs. S left the doll in the office of the school for me so we wouldn't spoil the surprise. I waited for Daniel to come and pick up the girls and then went up to retrieve the gift from the office. I expected to find the doll waiting for me with her new dress on. But instead, I found our doll with a whole new wardrobe complete with little bracelets and necklaces! I was shocked! Mrs. S did such an awesome job and I couldn't wait for Christmas to come so I could give it to Cheyenne.
Finally, Christmas morning came and Cheyenne got to open it up. She loved it-although the doll had some stiff competition from Cheyenne's new BB gun as the favorite gift. When she put the little wedding dress on it, she said "She looks just like Cinderella!" Ha! She tried each outfit on her right then. As hard as it was, I kept the secret of who the special seamstress was until the end of the school year. I don't think Cheyenne realizes yet just how special this little doll and her new clothes were, but I know she will someday.