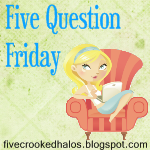 Is it really Friday already? This week just flew by! It's been a blur of kids coming and going on vacation with grandma, cleaning, packing, and going to the library (we went 3 times this week). I'm ready for the weekend! Tomorrow will be the first Saturday that Daniel has been off AND we've been at home in a couple of months. I'm ready for it. There are so many things we need to be doing and just not enough time to get it done. I'm hoping to see a great big pile of packed boxes by the end of the weekend. Wish me luck!
Friday means it's time for Five Question Friday with Mama M. Head over there and check out everyone's answers-maybe even a few vlogs. It's tons of fun!
1.
What do you think makes a good friend, or friend
ship
?
Hmmmmmmm. This is something that's been on my mind a lot lately. I think I have the good

friend

part down, it's the

friendship

part the eludes me. I could write a whole post on this, but I won't. For now, I'll just say that a friend is someone who is there for you, whether physically or just in spirit, when you need them. Friendship is when this goes both ways, which is rare, in my experience.

2. What is the last thing you bought & later regretted?


Probably that dinner at Texas Roadhouse the other night. It sounded great at the time-we only had two kids at home instead of four, I didn't have to cook or clean up-but now I'd kind of like to have that $50 back. It was really yummy and the kids had a good time, but I'm not sure it was worth it.



3. Have you ever had a prank played on you?
I have a fear of clowns. Don't ask me why (okay, it may have something to do with this movie and this movie). When I was 10 or so, I inherited a clown doll that used to sit on the bed at my Great Grandfather's house. My dad used to like to put it in different places to scare me. I hated that thing!
4. What is your favorite theme park?


I LOVE LOVE LOVE Disney World! I love the magic of the characters and the shows. I've been there three times-once as a child, once as a teenager, and once as a parent with my kids. It was fun every time I went, but nothing is as great as watching your child's eyes light up as they "meet" their favorite characters for the first time. When we took the kids, Dakota was five and Cheyenne was two. Everything was magical to them. I can't wait to go back and experience it with Sierra and Landon too!



5. Have you ever seen someone else give birth?


I haven't, although I would like to. Maybe someday I will.