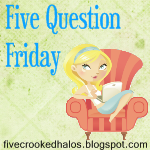 Woohoo! It's Friday! This week has passed in a blur. It's the first week of summer vacation and we have basically done nothing all week except Monday. It's been kind of nice just relaxing at home and my house is certainly much cleaner than usual, but I'm ready to get out and do something. Looks like I'll get my chance this weekend. We are off to look at houses this weekend and visit family in McAlester. Then, on Sunday, Sierra is off for a vacation adventure with Grandma Debbie. That should break up the boredom a little bit.

Friday means it's time for Five Question Friday with Mama M. Head over there to link up your answers and to read what everyone else has to say. It's fun!

Here are this week's questions:


1. If you could go back to college would you change your major? Or, if you were to go to college right now...what major would you choose?


There is NO WAY I would choose my major again. I love, love, love working with early childhood kiddos, but the rest of the stuff that comes with teaching public school was not worth it to me. I spent so much of my time and energy on other people's children that I had little left for my own kids.

If I had it to do over, I would choose to become an RN. I would love to work in labor and delivery or in the NICU.

But for now, I'm going to stick with being a stay at home mom. My family is much happier with me here.




2. What do you love most about your home?


This is a hard one for me right now. There are so many things about this house that I don't like. It's hard to choose something that I do. I think the one thing that I really do like about this house is it's location. We live about 1/4 mile from the nearest neighbor. Our house is surrounded by so many trees that you can't really see it from the road and wouldn't notice it unless you were specifically trying to find it. When you go outside at night, the stars are so pretty! We get visits from all kinds of creatures and in the evenings the wild rabbits scatter through the yard when the headlights of the van hit them. I can let my kids out to play in the yard and not feel like I have to watch them constantly for fear of someone trying to take them.




Ask me again in a month or so after we move. Hopefully there will be lots of things I love about my new house.

3. What types of books do you like to read (if you like to read at all)?


I love to read! I'll pretty much read anything as long as it isn't too scary or explicit. Right now, I'm hooked on Nicholas Sparks. It started when I read A Walk To Remember a while back and I've just kept picking up one after the other of his books every time I go to the library. I am currently reading At First Sight. I also love to reread books that I read as a child. I just returned Where the Red Fern Grows and the kids and I read The Mouse and the Motorcycle a month or so ago.
I don't really care for the "classics" so much.





4. What is the grossest thing you've ever eaten?

Hmmm...I don't eat things that are "gross". No bugs, etc. The closest I've come is eating alligator tail at a restaurant with my husband once. It was battered and fried, so it wasn't that bad. The grossest thing I've ever SEEN someone eat is when my husband ate frog legs on vacation. That and when he ate crawfish. Ewwwwwww!




5. If you HAD to be a character on a TV show, whom would you be?


I don't watch much TV, so I don't really know any current characters. I read in someone else's answers that they would be the mom from Seventh Heaven. I think I will copy her answer. Or maybe the mom from The Cosby Show. Any of those shows where your problems are solved in 30 minutes and then it's happily ever after.

See how much fun that is? Now go on over and link up!