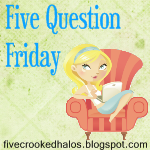 1. What is your favorite Easter tradition?
Other than dying eggs (which I am not a big fan of), we don't really have many Easter traditions. The kids leave their baskets by the door for the Easter bunny to fill. We usually hunt eggs a time or two with family. We go to church (this will actually be the first time since Dakota was born that we will get to go to our own church for Easter Sunday and I'm so excited about that). Nothing too exciting for us.
I am hoping to start a new tradition this year, though, and make resurrection rolls/cookies for Sunday morning. I've seen lots of recipes for different versions. All I need to do now is decide which one I want to make.
There's this one, or this one, or this one. Which do you like best? I'm leaning toward the second one because I like the way you tell the story and read the verses as you make them. I may make that one

and

one of the others.


2. Are you a "shower" or a "long, hot bath" kind of person?
How about a "long, hot

shower

"? I don't really care for baths much. When I taught PreK, one of my students came in and said, "My mom says that when you take a bath you are sitting in your own filth. That's why

we

take showers." (imagine that from a 4 year old. too cute) When I take a shower, I turn the cold water almost completely off. Ahhhhhhhhhh! Makes me want to go take a shower right now and warm up! Maybe I would finally wake up this morning.


3. C
an you

parallel

park and if so when is the last time you did it?
Only if I am parking in the very last space so that I can just pull straight in. :) I can't do the whole backing in/pulling forward/turning the wheel all the way to the ??? thing (I can't ever remember which way). I did actually pass that part of my driver's test but I don't think I've even attempted it since then.

4.
What is your

favorite

Easter candy?
Resse's eggs! I don't know why, but they taste so much better than regular Reese's cups. Yummy!


5.
Easter: do you go all out with the Easter Bunny or focus on the religious part of the holiday?
We do both, like we do at Christmas. The kids get their Easter baskets from the Easter bunny when they wake up on Sunday morning. Then, we all go to church together. My kids know the reason we celebrate Easter but it's okay to have some fun too!


I really can't believe we're already two days from Easter! Time is going by fast this year. I guess we'd better get busy dying eggs this weekend!