Oh my! Last week got the best of me. It wasn't a bad week, but nothing seemed to go as planned and the time went by way too fast. I'm hoping this week will be a little more normal (whatever that is).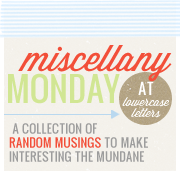 1.
I guess I jinxed myself last week by saying that I didn't have to go anywhere on Tuesday. I ended up having to go in to the doctor after all. So much for my day to save gas.
2.
I'm getting really, really tired of going to the doctor. Last week, I went in for an eye exam. It had been scheduled for quite a while, so it wasn't a big deal. Then, another issue came up and I had to go in to see my regular doctor as soon as my eye appointment was over. Dr. G decided that I needed an injection which they didn't have on hand and had to order from somewhere else so I got to go back to the Dr. on Tuesday for that. On Thursday, I had to go in to the clinic to check my INR. Ugh! So far this week, I only have one scheduled appointment on Wednesday. I'm praying that will be all, but we'll see what my blood count shows.
3.
We did somehow manage to get pretty much a full school day in every day except Monday last week. I'm starting to see a light at the end of the tunnel with this year's curriculum. Cheyenne only has 21 lessons left in her English book! Sierra's down to only 20some reading lessons also. I'm trying to figure out what we're going to do next year but I just can't think that far ahead until we finish up what we're doing now.
4.
Friday afternoon, we took the kids fishing. It was so much fun and we caught a ton of fish! Sierra caught the most, at least 8. Poor Dakota got a sunburn on the back of her neck, but I think it's getting better now. It's so nice to be able to get outside and do something together! I hope this weather lasts a while longer before it gets really hot.
5.
The girls had their first tae kwon do tournament on Saturday. They did great! Both girls competed in forms only (I'm not ready for them to compete in sparring yet) and both received a silver medal! I was so proud of them! They have worked really hard to get ready for this tournament. They're already making plans for next year.
6.
Sierra lost her first tooth last week! She was so excited!
She was really worried that she would blink in the picture, so she opened her eyes as wide as possible. :)
I know there was something else I was going to include, but I can't think of it right now. (Do you ever do that?) Must not have been important, I guess.
Maybe next week, I'll actually get my Monday post up on Monday (but I'm not making any promises). Promptness is overrated anyway. :)