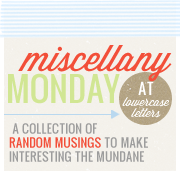 1.

We got off lucky this week and didn't have any tae kwon do classes Friday, Saturday, or Sunday. It was a nice break, but I think Dakota and Cheyenne are ready to go back. Their last class was last Monday. I bet after a whole week off they are going to be sore tomorrow. :)
2.
I actually made it through all day Friday without having to go anywhere! Hooray! This weekend was the first Saturday in a looooooong time that we got to stay home. I was so happy to get to spend the morning doing some extra cleaning (weird, I know). I didn't really deep clean anything, but I got a lot of little things done. I spent 15 minutes in each room, including the pantry and the linen closet, doing whatever extra needed to be done. We gathered up quite a bit of stuff to take to Goodwill. It was a pretty good morning!
3.
Saturday evening, we had dinner with some of Daniel's family. His uncle, aunt, and a cousin who live in Alaska are here visiting, so we went over to see them before cousin W. had to go back. Then, we came home and dyed our eggs,
painted pictures,
Sunday was super busy. The kids woke up to find baskets left by the Easter bunny,
we had Resurrection Rolls for breakfast,
then went to church. The kids had an egg hunt after the service, then we were off to lunch at Pops' and Memaw's house. We've finally been getting some much needed rain, so we decided to skip the egg hunt there. Too many puddles!
From there, we had dessert at Grandpa and Grandma Phyllis' house. The rain let up just enough to let the kids hunt eggs in the front yard (the backyard was a lake). Right after, the storms rolled in.
5.
Poor Sierra! She woke up Saturday morning with what I thought were bug bites on her forehead and arms. She complained that it itched, but I didn't really think much of it. Then yesterday, it was worse. Daniel looked at it and said "that's poison ivy." Poor baby, she's been itching like crazy. We gave her some benadryl and put some "pink stuff" on it. Since it's on her face, I think I'm going to take her in to the doctor today. Hopefully they can help us clear it up fast.
Speaking of the doctor, I think they're finally open. I should probably go call them before all the appointments fill up. Have a great week everyone!